Intex Ultra Frame is a series of high quality above ground pools with a durable PVC and steel frame construction.
The series is a bit more expensive than other Intex swimming pools, but it's also sturdier, more durable and looks a lot better as well.
Ultra Frame pools are available in different sizes ranging from a compact 14-footer for small backyards to a large 32ft pool that's comparable to a standard in-ground swimming pool.
The pools come with various accessories and are all designed for DIY setup and maintenance.
Read on for our take on the Ultra Frame above ground pools.
If this is not what you were looking for, see our reviews of other highly rated above ground pools. 
Ultra Frame swimming pools are constructed to last several seasons without any damage or deterioration.
The liner is made from a durable 3-ply material that is resistant to tearing and puncturing. It can withstand weather elements without degrading or fading.
The steel frame consists of lightweight metal tubing with powder coating to prevent rusting and corrosion.
Each frame post is fitted with an endcap at the bottom to add stability.
Overall, Ultra Frame pools feel significantly sturdier than most other steel-framed pools. They are great if you are looking for an above ground pool that will last for many seasons.
2. Multiple Size and Shape Options
Whether you are looking for a small above ground pool you can set up on your driveway or a large pool you can comfortably do your long laps in; there's an Intex Ultra Frame pool to match your needs.
The 14ft and 16ft sizes are ideal for those looking for a small pool. Although they are not as wide as other pools, but are deep enough that you can swim in them.
If you prefer something a bit bigger but not too oversize, the round 18ft and the rectangular 24ft x 12ft sizes are perfect.
If you want a size comparable to an in-ground swimming pool, we recommend the 32ft by 16ft size.
As for shapes, there are two options: round and rectangular. Only the 24ft and 32ft pools come in a rectangular shape.
3. Beautiful Modern Design
The Intex Ultra Frame series has some of the best looking above ground swimming pools.
The liner has a beautiful soft grey finish. The round sizes have a white contrasting band that holds the frame posts in place. The rectangular sizes have the white part around the top of the pool.
For both shapes, the frame is painted to match the liner, creating an overall beautiful contemporary style that will look great in any backyard.
On the inside, the liner has a blue tile pattern, giving the pool a relaxing ocean look and feel.
If you are looking for an above ground pool that won't look like an oversized tub on your lawn, we highly recommend one of the Ultra Frame pools.
Similar to other Intex above ground pools, all Ultra Frame pools have dual suction outlets. There are two outlet ports through which the pump sucks water out of the pool and through the pump.
The advantage of having two outlets rather than the usual one is that it improves the circulation rate. The pump moves more water through the filter.
Increased circulation increases filtration performance, which makes for a cleaner and healthier pool.
Whichever size or shape you order, it'll come with all the accessories you need to set it up and start swimming. They include:
Expect to pay more for an Ultra Frame pool compared to other steel-framed above ground pools. But in return, you get a better quality, sturdier, and more durable pool.
As many customers have noted, the most tedious part when setting up the pool is making sure the ground is level.
Even a slight incline can mess up the pool's stability.
To ensure the ground underneath is flat, you may have to level it with sand. This means spending more money and time setting up the pool.
For the larger sizes, level ground is especially crucial because of the increased weight of water. Some customers found it better to prepare a concrete pad.
This will require more time and money than sand leveling.
Tip: If you level with sand, put some pavers under the frame posts to keep them from sinking when you fill the pool with water.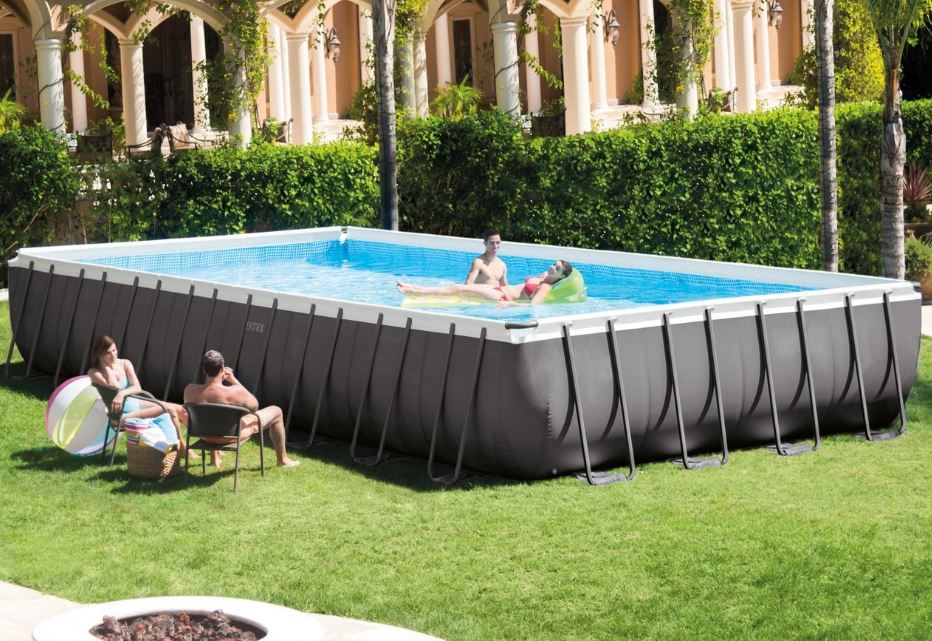 Intex Ultra Frame swimming pools are generally easy to assemble. The most challenging part is leveling the ground with sand or a concrete pad.
But if you can find a level area in your backyard, there's no need to do any prep work.
To set up the pool, first lay down the ground cloth to create a protective barrier between the ground and the pool bottom.
This prevents grass and other objects from damaging the liner. Then spread the pool liner on the ground cloth and assemble the steel frame.
Making sure all ports are tightly sealed, start adding water to the pool as you smoothen out the edges. It can take the entire day to fill the pool. If you want to enjoy it sooner, call a pool filling service.
Finish setup by connecting the pump and plugging it into a GFCI outlet.
Remember to add some chlorine tablets (not necessary if you have a saltwater system) before you open the pool.
When the pool is not in use, cover it with the included pool cover to keep out leaves and debris.
If you want to enjoy a warm pool, upgrade to a solar cover.