Wondering which Polaris's pressure-side pool cleaner to get?
Or, if you have been trying to figure out the difference between Polaris 280 and 360 or the difference between Polaris 280 and 380, you're in the right place.
In this 4-way comparison, we address a common debate: Polaris 280 vs. 360 vs. 380 vs. 3900 Sport. These are some of the most popular and highest-rated Polaris pool cleaners.
Debates about the Polaris 280 vs. 380, Polaris 360 vs. 380, and Polaris 280 vs. 360 are quite common. But they differ quite a bit in price, features, and cleaning performance.
Read on to find the one that's best for your pool.
If you are not looking specifically for a Polaris cleaner, we've reviewed other top brands, including Hayward and Pentair, in our in-depth pressure side pool cleaner buying guide.
For more options beyond pressure cleaners, read our best automatic pool cleaner reviews, which include suction and robotic cleaners as well.
You can also check our dedicated guide for the best robotic pool cleaners and best vacuums for Intex pools to get the best tools for the cleaning and maintenance of your swimming pool.  
Polaris 280 vs 360 vs 380 vs 3900: Comparison Chart

280

Best For… Reliability
– by far the most proven product, but it does require a booster pump
360

Best for… Saving Money
– similar performance to 280, but no booster pump is required

380

Best for… Cleaning Stairs and Walls
– designed to climb vertical surfaces

3900

Best for Large Pools
– largest debris bag size, high gpm
Reviews of Polaris 280, 360, 380, 3900
The Polaris 280 has a wider inlet valve than other Polaris models. This makes it perfect for larger debris like large fallen leaves from trees that may be shadowing your swimming pool.

Regularly cleaning the filter bag is an important aspect of proper Polaris 280 maintenance. It keeps the cleaner running efficiently and optimizes the operating time.
Plus, periodic maintenance of the Polaris 280 requires you to check and replace the filter screen, wear rings, tires and sweep hose scrubber if needed as these undergo wear.
Because it has only two jets, the Polaris 280 cleans slower. You have to leave it in for 4-5 hours to get a sparkling clean pool while other models can clean an entire pool in about 2-3 hours.
The other issue is that you need to adjust the cleaner to get the best cleaning performance. You need to make sure the water pressure is just right so that the cleaner doesn't move too fast or too slow.
You also need to make some adjustments to get it to climb and clean the wall.
So there's a bit of trial and error in the beginning. But once you have the cleaner moving and cleaning properly, you can sit back and relax.
One reason it is a favorite of many pool owners is that it doesn't need a booster pump. So, there are no extra expenses after you buy the cleaner. This is a major difference between the Polaris 280 and 360.
It has the same 3-wheel design as the 280 and 380. However, in the Polaris 280 vs. 360 vs. 380 debate, the Polaris 360 takes a bit of an edge. 
This is because the Polaris 360 works with a pool circulation pump and doesn't require a pool cleaner booster pump, whereas the other two models need a booster pump to operate at optimum efficiency.
The main issue with the Polaris 360 is one you'll encounter with other Polaris models – it takes time to set up and adjust properly.
Unlike robotic cleaners, you can't just dunk it into the water.
It takes about half an hour to an hour to connect the houses, measure RPMs, and adjust the cleaner to the right pressure.
You also need to check that it is climbing the wall up to the waterline.
Thankfully, you don't have to install a booster pump, which makes set up quicker and easier.
Best for cleaning stairs and walls
If you want to go a step up from the Polaris 360, the Polaris 380 is next in line in terms of both performance and price. The Polaris 380 is the newer version of the tried and trusted Polaris 280. 
However, a key difference between the two is that the former uses a shaft drive system, whereas the Polaris 380 uses a belted system. 
This is a useful update as the new and improved design has fewer moving parts and a rubber belt that is comparatively cheaper than metal gear. This ultimately reduces the maintenance cost for the Polaris 380.
The Polaris 380 is not as good a deal as the 360.
The 360 gives you better value for your money compared to the 380. The 380 is more expensive, and yet it does about as well as the 360 when it comes to cleaning performance.
It's even more expensive when you factor in the cost of the booster pump.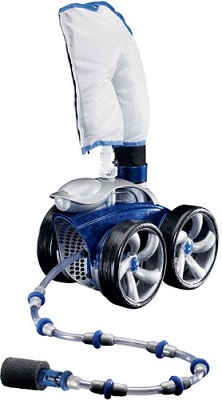 The 3900 climbs walls with ease and even cleans steps. If your pool has one of those gradually sloping floors, the Polaris 3900 is your best bet out of the four Polaris models we've reviewed. This is because the Polaris 3900 is equipped with wide tires that make treading on tricky slopes easy.
Plus, this model is equipped with a large 5-liter filter bag that is a very decent improvement over the previous model, out of which the Polaris vac sweep 280 had the largest filter bag capacity of 3 liters. This makes it perfect for large pools and cleaning larger debris.
The 3900 Sport requires more maintenance than the other models. It could be because it has more parts, or the design is more complicated (e.g., the stainless steel all-wheel-drive chain).
Customers report more issues that require frequent repairs or parts replacements.
Luckily, the 3900 Sport is covered by a 5-year warranty for the frame and a 1-year warranty for the other parts.
There's also the issue of cost. The 3900 Sport is already quite pricey before you add the cost of buying a booster pump.
But if you want the best cleaning performance, it's worth it.
All four models are an excellent choice for most in-ground pool owners. They are well-made, and they do a great job cleaning your pool. The model that works for you will depend upon what you're looking for.
The Polaris 280 is the best choice for pool owners looking for an affordable and budget-friendly Polaris pool cleaner.
Meanwhile, the Polaris 360 is best for those who want a good bargain and don't want to buy an additional Polaris booster pump for maximum efficiency.
The 380 is the most proven cleaner out of the bunch and offers faster cleaning and debris collection. 
And the Polaris 3900 is for pool owners who want the best Polaris pressure-side cleaner they can get for their money as it has the maximum vacuum power and offers extra features like large filter bag capacity, twist release connection, etc.