SHOPPING FOR A VACUUM FOR YOUR INTEX SWIMMING POOL?
Intex is a popular above-ground pools brand that has manufactured numerous pools for people of every age. Whether you are looking for an inflatable pool that your kids can enjoy or want a metal frame above-ground pool for your entire family, Intex has it all.
However, most Intex pools don't have an integrated pool skimmer, so the chance of debris sinking to the bottom is pretty high.
As a result, ensuring the cleanliness of your Intex pool is a tough task. Fortunately, there are a plethora of vacuums for Intex pools that you can choose from. 
But while having variety is good, it can also be challenging to find the right pool vacuum for your needs. 
But don't worry. We have compiled a list of the best vacuums for Intex pools to help you make the right choice. We review each of the recommended products in detail, and discuss the pros and cons of each product, so you can make the right choice. Have a look! 
Add a header to begin generating the table of contents
Best Vacuums for Intex Pools: Comparison
XtremepowerUS Automatic Suction Vacuum
Hayward W3900
Intex handheld vacuum

Best for handheld cleaning
Dolphin E10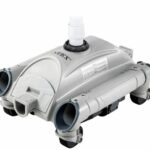 Intex automatic pool cleaner

Best for small Intex pools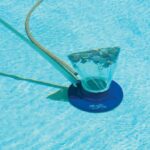 Poolmaster Big Sucker
Poolmaster AIR
Best Vacuums for Intex Pools: Reviews
The XtremepowerUS Automatic Suction vacuum is designed for both above ground and in-ground pools. You can use it to clean an Intex or any other PVC-sided above ground pool.
It hooks up to your pool's suction/outlet port where the water is sucked out of the pool.
The force of water going out of the pool allows the cleaner to move around on its footpad. It also powers the cleaner's suction, allowing it to pick up all kinds of debris.
But you'll still need to brush the pool manually. This suction cleaner only vacuums loose dirt. Once you manually loosen dirt on walls, floor, and steps, it will be easier for the cleaner to pick it up.
Unlike the Intex auto cleaner, the XtremepowerUS Suction cleaner depends on the pool filter to remove debris. So make sure you clean or backwash your pool filter frequently – ideally once or twice a week.
The cleaner comes with everything you need to set it up, including interconnecting hoses, hose weights, the pool cleaner itself, and a regulator valve.
Setting up the pool cleaner is a bit involving. You have to connect the right length of hoses, set up the weights properly, and configure the regulator valve for maximum suction.
Thankfully, the manual has clear instructions, and you can find an installation video on the Amazon product page.
The manufacturer recommends using the XtremepowerUS suction cleaner with a pool pump rated at least 1 HP.
This is another right choice if you are looking for an automatic suction cleaner. It's more expensive than XtremepowerUS, but it's also more advanced.
Instead of a basic flapper that ambles around on the pool, the Wanda cleaner has a turbine that precisely controls water flow to ensure optimal mobility, excellent cleaning performance, and quiet operation.
To set it up, you first connect it to your pool's suction port. This is the hole on the side of the pool where the pump sucks water out for filtration.
If your pool has two outlet ports that lead to the pump, we recommend plugging one closed to maximize suction power.
Wanda comes with several hose sections that you connect. Use only the hose sections you need for your pool length to prevent tangling.
If you have a larger pool (longer than 30ft), you can order additional sections from the manufacturer.
The Wanda suction cleaner works pretty well. It moves around efficiently and quietly, picking up sand, leaves, algae, and other kinds of debris.
Unfortunately, you still have to pre-brush the pool before dunking Wanda into the water. It lacks a brush, meaning you have to get algae manually and stuck debris from the walls and floor of the pool.
If you are going to get a manual pool vacuum over a much more convenient automatic vacuum, at least buy a powered one like this one from Intex.
Unlike other pool vacuums that are powered by the force of water, either going in or getting out of the pool, the Intex handheld vacuum is battery-powered.
That means you don't need to hook it up to your pool's return or suction line, making set up easy and fast.
Once you put in the filter net and the brush-head attachment, it's good to go.
It comes with two brush attachments. 
(i) A wide brush that is perfect for brushing and vacuuming the floor and walls.
(ii) A thinner brush for cleaning corners, along the wall edges and other hard-to-reach areas.
It also comes with its own telescoping pole made from lightweight aluminum.
The onboard Ni-MH battery produces decent suction power. The cleaner can pick up all kinds of debris, including leaves, acorns, sand, and algae.
The black mesh captures larger bits of debris like pebbles and leaves. To get the fine particles, install both the white and black mesh filters (with the white one on the inside).
The bristles on the cleaning head ensure that even the dirt stuck on the pool floor and walls are cleaned off.
On a full charge, the Intex cleaner provides 50 minutes of cleaning time. That's enough to clean a medium size above ground pool.
For charging, a USB cable is included. 
If you are worried about submerging something with a battery in water, Intex has taken plenty of precautions.
The cleaner has an IPX8 water protection rating, the second-highest level of protection.
Additionally, it has an auto shut-off mechanism. When you take it out of the water, it shuts off automatically and restarts when you put it back in the pool. This protects it from damage caused by dry-running.
Note that the Intex handheld cleaner is designed for Intex pools up to 18ft long. It's also ideal for use in Intex spas.
Like suction and pressure automatic cleaners, Robotic pool cleaners are hands-free. They clean the pool on their own.
But unlike other automatic cleaners, robotic cleaners don't hook up to your pool return or suction line. They have an onboard filter, brushes and use electricity for mobility and suction.
Our favorite robotic cleaner for Intex pools (and most other above-ground pools)is the Dolphin E10, a relatively new model from Maytronics.
Most robotic cleaners for above ground pools have very basic features and functionality. They clean well, but you can get much more from the Dolphin E10.
It's a smaller version of other high-end Dolphin models complete with advanced features like smart navigation for efficient cleaning and active brushing to remove stubborn dirt, algae, and biofilm from the bottom of the pool.
The E10 moves on tracks, which provide better traction than wheels.
The active brush loosens dirt on the pool floor while the powerful suction sucks up debris into the top-loading filter basket.
The filter basket is easy to remove and clean, unlike filter bags. Its only limitation is that it doesn't capture fine debris like sand and silt.
It does a great job catching leaves, acorns, and bugs, but you'll have to buy a separate ultra-fine filter for every day cleaning.
The Dolphin E10 is light, making it easy to handle. Unlike most robotic cleaners, you won't struggle to lift it out of the pool.
If you have a small Intex pool, you can save money by getting a smaller pool cleaner. The budget priced Intex Automatic pool cleaner vacuums above ground pools up to 24' long. 
The Intex automatic pool cleaner is a pressure vacuum. It attaches to the return line in your Intex pool and uses the pressure of water rushing back to the pool to move around and pick up debris. 
That means it relies on your pool pump, but not the pool filter. It has an integrated filter basket that collects debris.
Intex recommends using it with a pool pump that has a flow rate between 1600 and 4000 GPH. 
Cleaning performance is good, not excellent. Intex pool owners say the Intex cleaner has no trouble moving around the pool, though it will not climb the walls. You still have to scrub those yourself. 
To ensure it covers the entire pool floor, the Intex pool cleaner automatically reverses direction after some distance. 
It uses a venturi effect to stir up debris and suck it into the filter basket. It also has a couple of brushes that loosen stubborn dirt. 
One issue many customers have with the Intex automatic cleaner is how much time it takes to clean the pool. You have to leave it in the water for 3-4 hours to get good results. 
If you are looking for a faster pool vacuum, I recommend the pricier Dolphin E10 robotic vacuum. 
The other issue is that it struggles if the pool is too dirty. If you've just opened your Intex pool for the season and it has lots of debris and some algae, the Intex automatic vacuum is not the best tool for the job. 
I recommend manually scrubbing or vacuuming the pool first, then use the Intex cleaner to maintain the pool. It does a great job picking up leaves, bugs, twigs and some fine debris.  
Instead of just skimming the top of the pool with a leaf net, use a leaf vacuum to get debris even from the bottom of the pool. 
Our favorite leaf vacuum for Intex pools (and most other kinds of pools) is the Poolmaster Big Sucker. It's cheap, it's easy to use and works really well at keeping your pool debris-free. 
The Poolmaster Big Sucker is a pressure pool vacuum. But it doesn't use your pool pump to work; in fact, it doesn't connect to your pool at all.
Instead, it connects to a standard garden hose. Once you turn on the water, the vacuum uses the water pressure to collect debris. 
It has eight small holes on its underside. These produce jets that shoot upwards into the attached mesh bag. This creates a suction effect that pulls leaves and debris into the net. 
And because the Big Sucker has an extra-wide opening at the bottom, it can pick up large stuff that has fallen into the pool. It's great if your pool is near trees and gets lots of leaves and twigs. 
The only downside is that it's not automatic; that's why it's cheap. You attach a pool pole to it and then push it around the pool. 
The Big Sucker has small wheels at the bottom, so moving it around is easy work. 
The fine mesh bag is reusable. Simply empty the debris, clean it and secure it again around the top of the vacuum. Poolmaster also sells mesh bags on their own if you need a replacement or spares. 
If you are looking for a budget pool cleaner that will scrub and vacuum your Intex pool, I recommend the Poolmaster AIR pool vacuum head. 
It attaches to your pool's suction outlet and a standard pool pole. Note that the vacuum hose and pole are not included. The Poolmaster vacuum head is compatible with both 1.5" and 1.25" hoses. 
As long as you have a decent size pool pump (¾ HP or more), the Poolmaster AIR vacuum generates lots of suction, easily sucking up large and small debris and directing it to the pool filter. 
The Poolmaster vacuum head also includes bristles around the edge. So as you move it around the pool, it vacuums and brushes at the same time. This is handy for cleaning algae and stubborn debris. 
The vacuum head is easy to maneuver around the pool. It has a couple of air relief valves to ensure it doesn't get stuck on the pool floor or wall. 
The hose adapter swivels to keep the hose from kinking. 
Intex Pool Cleaner Buying Guide
Now that you know the good and bad about each product, here is a buying guide to help you identify the right one for your needs. 
What to Consider When Buying an Intex Pool Vacuum
Type of Vacuum: Automatic vs. Manual
Manual vacuums are the cheapest, with most costing under $100.But you have to push the vacuum around yourself. That means blocking a couple of hours every weekend to vacuum the pool.
If you want to save time vacuuming the pool, invest in an automatic pool vacuum. It's more expensive, but it's a time saver.
Suction and pressure vacuums are cheaper than robotic vacuums. You need to connect them to the return or suction port of your pool.
A robotic pool vacuum is more expensive, but it doesn't require any setup and doesn't rely on your pool pump or filter.
Here's our bottom line: if you are on a budget, get a manual pool vacuum. You can get a good one for less than $50. If you want to save time and effort cleaning the pool, buy an automatic pool vacuum.
Pool vacuums have a specific pool size limit that's based on the length of the hose or cable (for robotic vacuums).
You need to be especially careful if you have a large above ground pool that's longer than 30 feet. You may need to buy a more capable pool vacuum or order extra hoses to extend the vacuum's reach.
Pool vacuums are mostly for vacuuming the pool. This involves sucking up debris and filtering it using an onboard filter or the pool filter.
But vacuuming is not enough to clean the pool. The worst of the dirt, including algae, biofilm, and debris, is actually stuck on the pool floor and walls where it hard to remove without brushing.
Some vacuums have brushes to loosen this dirt. Others don't have brushes, meaning you have to pre-scrub the pool manually to loosen the dirt.
A pool vacuum with brushes or bristles saves you time since you only need to scrub the walls (most above ground pool vacuums don't clean the walls).
Not all above ground pool vacuums are safe for your Intex pool. Some vacuums can rip your liner or leave scratches and scuffs.
When shopping, look for a vacuum that is safe for a vinyl or PVC pool.
Look for features like non-marring wheels or tracks, protective bumper, and scratch-resistant hoses.
Before you buy a vacuum for your Intex pool, check how well it cleans. Customer reviews will usually be your best source of information on this. 
Some of the things to look for include: 
Does it collect all debris or only a specific type? Some pool vacuums pick up both large and fine debris, while others only pick up large debris like leaves and struggle with finer particles like sand. 

Does it get rid of algae? Even some pool vacuums with a brush still struggle to clean algae off the pool surface. 

Does it clean the pool walls? This is important for automatic pool vacuums. If it does not, you still have to manually scrub the walls. Keep in mind, however, that most above ground pool cleaners don't climb walls. 

Does it miss some areas? Again, this is important for automatic pool vacuums. Ensure that the vacuum you get covers the entire pool floor without missing some areas. Otherwise, you'll find yourself coming back with a manual brush or vacuum to finish the job.  
Frequently Asked Questions on Vacuums for Intex Pools
What is the best vacuum for Intex pools?
Most manual and automatic pool vacuums for above ground pools are also good for Intex pools. Just make sure the vacuum is safe for a vinyl or PVC sided pool.
How do I hook up my Intex pool vacuum?
It depends on the type of vacuum. If it is a suction cleaner, connect the hose to the outlet port. If it is a pressure cleaner, connect the hose to the inlet port.
Make sure you remove all air from the hose before hooking it up. Do this by slowly lowering the vacuum into the pool until the water rises through the hose. Alternatively, connect the hose to the return line and let it fill with water.
A robotic pool cleaner doesn't need to be hooked up to anything.
Can I leave the pool vacuum in the pool?
Most manufacturers recommend removing the pool vacuum after cleaning to keep it from wearing too fast.
But some suction and pressure cleaners can be left in the pool for hours to vacuum the pool continuously.
Do I need to turn on the pool pump when vacuuming the pool?
Depends on the type of pool vacuum. If it is a manual, suction, or pressure cleaner, your pool pump needs to be on.
That's because the vacuum uses the force of water coming into the pool or getting out to move and suck the debris.
If you have a robotic pool cleaner, you don't need to turn on the pool pump. The vacuum has its own power and filter. 
How often should I vacuum the pool?
Depends on how dirty your pool gets and how often you use it.
If you don't struggle much with leaves and dust in your pool, you can vacuum it once a week. But if your pool is near trees or you use it often, you may need to vacuum it more often, and in some cases daily.
If you have an automatic cleaner, you can vacuum daily without any more time or effort.
How do I vacuum my Intex pool without a skimmer?
You can easily clean an in-ground pool with a suction pool cleaner, but an above-ground pool without a skimmer gets dirty quickly because there is no way to remove the leaves and debris unless, of course, you use a pool net to manually skim them out. 
If not, you can use a pool vacuum to pull them out. Yes, it is possible even if your pool does not have a skimmer. You'll need a pool vacuum head, telescopic pole, vacuum hose, and a skim vacuum plate. Make sure the pool vacuum head is light enough to float on the surface of the pool. Here's how to do it:
First, attach the vacuum head to the telescopic pole. 

Now take the vacuum hose and attach it to the vacuum head. Submerge the entire assembly into the pool water. 

Push the free end of the hose against a jet to release all the air bubbles from the system. It is important to do so because trapped air can negatively impact the vacuum's performance. 

Once all the air is removed, remove the hose from the jet and attach it to the inlet. Since your pool does not have a skimmer and a

heater

, for that matter, the inlet will be empty. Simply push the hose into the inlet. (The other end of the hose will be connected to the vacuum head) 

Now you are ready to vacuum your pool. Use the telescopic pole to bring the vacuum head to the surface and start vacuuming. Move the vacuum head around the pool until the entire surface is clean. 

If the vacuum starts losing power, detach the hose and connect it to the jet again to remove trapped air. Once removed, reattach the hose to the inlet and resume vacuuming. 

Once the pool is thoroughly clean, detach everything and wash them with fresh water to eliminate chemicals. Pool chemicals can affect the performance of your equipment as well as reduce their lifespan, so it is important to rinse them thoroughly. 

Clean them well and air dry in the shade to prevent sun damage.
How do I clean my Intex pool for storage?
Covering your Intex pool with a suitable pool cover is one way to store it until the next season. But if your Intex pool is inflatable, it's better to take it down and store it away. Here's how you should do it:
Unplug the drain plug to let the water drain out. If you don't want it to pool in your backyard, take a pool drain and use a hose to drain the water at your place of choosing. 

A problem with inflatable pools is that all the water does not drain. You'll need to tip it over to get all the water out. If the pool is small, you might handle the job yourself. But if it is big, you should ask someone to help you out. 

Once the pool is completely empty, open the plug on the ring and let it deflate. 

The next step is to disconnect the filter hoses connected to the pool. You might need a screwdriver to disconnect them. Be sure to keep the screws and the filter pieces safe. 

Use a power hose to rinse the inside of the pool. 

Tip it over and rinse the underside as well. 

Let the pool air dry in the sun. 

Take some distilled white vinegar. Pour some on the pool and use a soft towel to wipe the inside and outside of the pool. 

Now take a clean towel and wipe off excess vinegar. 

Spread the pool upside down on several patio chairs and give it another rinse with clean water. Make sure there are no creases for water to pool on. 

Let it dry in the sun. 

Once the pool is completely dry, take it inside to prevent dirt and grime from sticking to the pool again. 

Spread the pool upside down on a clean surface. Be sure to remove all the creases. 

Take some baking powder and sprinkle it on the bottom of the pool. The baking powder prevents it from bunching up and sticking together so the creases don't crack. 

Take a soft cloth and spread the powder evenly. 

Now carefully fold the pool and store it away.