Shopping for the best pool test strips?

You've come to the right place.
Having your own pool makes for great summers. 
However, owning a pool can be a lot of work – and you need to keep the water clean and balanced at all times. 
And while you may have all the essential cleaning tools like an automatic pool cleaner, pool monitor, pool skimmer, and pool filter, another thing you need to have in your arsenal is a pool testing kit.
And the most proven and affordable type of pool testing kit is good-ole pool test strips. 
Who Needs Pool Test Strips?
All pool owners need to test their pool water at least weekly to know if chemicals are doing their job.
With pool test strips, you can quickly check the chemicals in your pool water and then make adjustments to make sure the pool water is safe enough for jumping in – and not doing damage to your pool.
What's In This Buying Guide
Add a header to begin generating the table of contents
You'll find a wide range of testing strips on the market that claim to be unique in some way.  In truth, most only differ in terms of the suite of chemicals and metrics they test for.  And there are definitely some bad manufacturers out there.
This is why we've created this guide.
In this guide you'll find a review of the best pool test strips sold today in the US. 
In addition, we provide a buying guide that tells you everything you need to know from how to use pool strips correctly to what to look for when purchasing them.
We end the guide with a few FAQs, so there's no confusion left when you hit the market.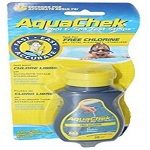 AquaChek Yellow Test Strips

Best for Outdoor Pools

Tests for
pH, stabilizer, total alkalinity, free chlorine
JNW Direct Test Strips

Most Reliable

Tests for
Free chlorine, cyanuric acid total chlorine, pH, bromine, total hardness, alkalinity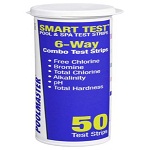 Poolmaster Test Strips

Best for Accuracy

Tests for
Free chlorine, total chlorine, pH, bromine, total hardness, alkalinity
Lamotte Insta Test Strips

Best for Instant Results

Tests for
Free chlorine, cyanuric acid total chlorine, pH, bromine, total hardness, alkalinity
AquaChek Test Strips

Most Valuable Purchase

Tests for
Free chlorine, cyanuric acid total chlorine, pH, bromine, total hardness, alkalinity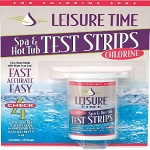 Leisure Time Test Strips

Best for Small Pools

Tests for
Alkalinity, pH, calcium hardness, chlorine
If you're looking to get the most of your purchase, consider buying these AquaCheck yellow test strips. 
With these strips, you get a number of benefits.
First of all, there are 50 strips in the package, which makes them a bargain. 
Using AquaCheck test strips is also entirely mess-free – in just a few seconds they provide readings for the pH levels, stabilizer, total alkalinity, and free chlorine in the water.
These strips take around 30 seconds to produce results; you can then see clear indications of the adjustments you need to make to your pool. 
We really like the AquaCheck strips because they also read stabilizer levels, making them great for outdoor sunny pools where the sun's UV rays cause rapid chlorine dissipation.  
If you're looking for the ultimate testing strips for your pool, consider buying the JNW Direct strips. These strips can test for seven parameters, including total alkalinity, cyanuric acid, pH, free chlorine, bromine, total chlorine, and total hardness.
The JNW strips are very easy to use with simple and clear instructions. Plus, they provide instant, reliable results that you can compare to the color chart present on the table. To make things easier, the ideal range of the chemicals is also marked on the bottle.
One thing we really like about these strips is that they come with a free mobile application that you can use to record and track the results with maximum precision. The app is available for both Android and iOS devices.  
Apart from the 100 strips, you also get a free ebook that includes an in-depth explanation of what the results mean and how you ensure your pool water stays clean and healthy throughout the year.
You can use these strips for hot tubs, spas, saltwater pools, and freshwater pools.   
The Poolmaster test strips are one of the best options if you're looking to maintain balanced water chemistry in your pool. They test 6 chemical factors including total hardness, total chlorine, pH, alkalinity, bromine, and free chlorine. 
Like other strips, you just need to dip these strips to get an instant reading. 
What we love the most about these strips is that the non-bleed pads provide highly accurate color readings without creating a mess.
The pack includes 50 strips while the container itself is convenient and slim. The chart is on the side of the container, making it easier to determine results.  
Another product you should check out before making the final purchase is the lamotte insta test strips. Not only is it easy to use and simple, but it can test for 6 different chemicals.
You can test for cyanuric acid, hardness, alkalinity, pH, total chlorine, bromine, and free chlorine with these strips. 
The 50 strips come in a waterproof bottle that is easy to flip open. 
Plus, the comparable levels are all on the bottle, so you can easily determine the adjustments you need to make. 
In addition, the chart on the bottle is broken down into five color-coded ranges to make things simpler. 
These AquaChek test strips are one of the best deals on the market. 
You get 100 strips in a packet, which is a great deal.
What makes this a worthy purchase is the fact that these budget strips test for 7 different things – more than most other test strips. These include cyanuric acid, pH, bromine, total hardness, total alkalinity, free chlorine, and total chlorine. 
These AquaChek strips are a popular product online, likely because they take just 15 seconds to show results. Considering that most other strips take around 20 to 30 seconds, the AquaChek strips produce results very quickly. 
Moreover, these strips are easy to use; you just need to dip them in water for a couple of seconds and wait as the results become clear. 
There's a color chart on the side of the bottle to help you ensure chemical levels are ideal. 
If you've got a small to medium-sized pool at home, check out the Leisure Time test strips. 
With just one easy-to-read test strip, you can test the sanitizer level, pH, alkalinity, and calcium hardness in your pool.
These strips are convenient and fast and come in a nice, sturdy container. Apart from pools, you can use these strips for hot tubs and spas, too. 
Like all the other strips we discussed, the Leisure Test strips also take only a few seconds to produce results. 
One pack includes 50 strips. 
Pool Test Strips Buying Guide
How do pool testing strips work & what chemicals can they test?
Pool testing strips can test for different chemicals, depending on which one you opt for. Usually, most strips can test for chlorine, pH, total hardness, bromine, and alkalinity. Higher-end ones can test for more chemicals, such as cyanuric acid.  
Once you take your strip out of the water, you will see colors start to appear on the strip for each chemical value after ten seconds or so. Generally, dark colors indicate a higher presence of chemicals, while lighter colors mean lesser presence. 
Pool Testing Strips vs. liquid and Digital Testers?
All three have their benefits and drawbacks, and the final choice often comes down to personal preference. 
Personally, we like the convenience and value that pool test strips provide.
They're super-easy to use: you only have to dispose of the strips once you're done.
Plus, there's no need to mix any liquids, which means there are fewer chances of errors, too. 
Not to mention they're easy on the pocket. And they generally come in packs of 100 or 50 strips, so you can easily monitor your pool's chemistry with these strips.
The only minor drawback is that they can expire, so you'll need to make frequent purchases.
That being said, most products come with a long shelf life, so you don't really have anything to worry about.  
A liquid test can make for a great option only if you know what you're doing. Liquid test kits have a reagent that creates a chemical reaction with the water and provides color-coded readings. 
While liquid tests are more accurate than test strips, there's more effort involved, and there's a higher chance of error. You could easily add the wrong amounts of chemicals because of the wrong reading. 
Plus, before taking a test, you'll have to ensure that you have enough reagent needed to determine the chemical levels. 
While we're talking about reagents, another problem is that each brand has a different formulation, so reagents from different brands won't produce accurate results if used with a test kit from another brand. 
Digital testers are the most accurate pool kits. There are no messy reagents involved since digital testers use reagent tablets for all the testing.
You simply have to pop the tablet into a vial, place it in the machine, and then press the relevant test button. The machine will give you extremely accurate results! 
The drawback to digital testers, as you might have guessed, is the cost. They're very expensive, but if you only want professional-level results, these are the way to go. 
What to look for in pool test strips
Despite just being strips, you can't simply choose the first or most well-reviewed test strip you come across. To make sure the strips actually come in handy, make sure to look for the following:
Generally, all test strips are easy to use, and the way you use them is the same, too; just dip them in the pool, wait for a few seconds, and then compare the results with the color scale provided by the manufacturer. 
However, the problem often arises in interpreting the results. To make sure that the strips are easy to read, the resulting colors must be bright and should be similar to the colors shown on the color chart provided. Plus, the strips should come with easy-to-follow instructions. 
The versatility of pool strips can really determine if you should invest in them. You should purchase strips that can take a reading of different things like bromine, calcium hardness, chlorine, pH, and total alkalinity.
The best pool strips are those that test all of these things with just one strip.
Inaccurate pool test strips are a waste of money. Even if you have the easiest strips to use that provide great value for money, they're useless if they don't provide accurate results. 
Instead, you need accurate strips you can rely on so that your pool water is healthy and balanced enough to swim in.
To make sure you purchase accurate test strips, only choose top-rated strips from well-known brands. Before making the purchase, go through product reviews to see whether the strips read the water chemistry correctly. 
Accuracy is not the only thing that matters; consistency is quite important too. Pool test strips should produce the same results when you test the water multiple times. 
In addition to that, the results must be consistent with the results that other pool test kids provide.
Test strips are a quick and easy way of testing the quality of the pool water for daily maintenance or for when you want to go for a swim.
Most testing strips can test for key chemicals like total hardness, pH, chlorine, and total alkalinity. However, you can also find strips that just check for one thing like calcium hardness or pH. Similarly, if you just want to check the bromine or cyanuric acid level, you can find dedicated pool strips for those, too. 
So before making the purchase, make sure you get strips that test the chemicals you want to check. Also, check whether the strips are compatible with the kind of pool you have – whether it is an above-ground, in-ground, or saltwater pool. 
As with anything, ensure that the strips you purchase provide great value for the money. For this, you need to take into account not just the quantity but also the quality of the strips.
Most manufacturers provide 50 strips in one pack, while others offer 100 strips at the same time. But apart from the quantity, the test strips should also give the correct results so that you can rely on them for months until they expire.
How to use pool testing strips
As mentioned earlier, pool test strips are quite easy to use. 
You first need to get a sample of water from your pool. For the best results, try to get water from the middle of the pool and away from the return jets.

Then, dip the strip in water and quickly take it out. 

Wait for around 10-15 seconds or as long as the manufacturer states in the instructions. Make sure you don't shake the strip while you wait. 

Once you see the colors on the strip, you need to compare them with the colors provided by the manufacturer. The colors can either be mentioned on the bottle or in the instruction manual.

You can then decrease or increase the pool chemicals based on the results. 
Pros and cons of using pool test strips
While pool test strips are cheap and easy to use, they don't come back without their drawbacks. Let's take a look at both aspects.
As mentioned, pool test strips are quick and cheap yet efficient. Plus, since manufacturers provide 50 or 100 strips, they provide value for money too.
In fact, according to some people, pool strips are more accurate than liquid tests. Apart from that, they're easy to use, too. As long as you can differentiate between colors, you will have no problem reading and comprehending the results. 
Furthermore, most strips can test for many things in one go. For instance, 5-in-1 strips can read total hardness, total alkalinity, pH, bromine, and chlorine. Meanwhile, 6-in-1 strips can also test for cyanuric acid.
You can also easily find strips that test for things like bacteria, phosphates, and total dissolved solids.
The primary drawback of pool test strips is that they have an expiration. So, you may not be able to use the same strips for multiple seasons. 
Plus, they are highly likely to get spoiled if they are exposed to harsh sunlight or moisture. You are more likely to waste some strips, too, because of having wet hands that obstruct the actual results.
And while people find test strips to be more accurate than liquid tests, they are not as accurate as getting your water tested at the local pool store. 
Frequently Asked Questions
Can you reuse pool test strips?
No, you cannot reuse test strips at all. Once you've used a strip, you should throw it away.
Are pool water test strips accurate?
Pool water test strips can provide pretty accurate readings of the water chemistry, given that you follow the provided instructions. 
In fact, test strips are said to be more reliable than liquid test kits.
What is the shelf life of pool test strips?
Generally, test strips have a shelf life of 24-36 months. You can find the exact expiry date for the strips at the bottom of the bottle.
How often should you check your Pool Chemical levels?
Ideally, you should test the chemical levels in your pool 2-3 times a week. But, if you're a new pool owner, it's best that you test the pool more frequently so that you can determine the ideal chemical levels according to the weather and your swimming habits. 
Final Verdict: What is the best pool test strip set?
In our opinion, the JNW Direct test strips are the best you can get.
The package includes 100 strips that test for six chemical levels.
Plus, the strips come with an app that provides details about the results and tips on how to maintain your pool.