Shopping for a pool brush?
You've come to the right place. 
Without the proper equipment, cleaning a pool can be a lot of hassle. And if you want to make sure your is sparkling clean, one thing you need is a pool brush.
To help you find a pool brush that will do the job you need and last, in this guide we review and compare the best pool brushes we know about.
So let's get to it!
What's In This Buying Guide
Add a header to begin generating the table of contents
In this guide we review the top pool cleaning brushes with a focus on their best features, pros and cons. 
Then we review each brush in detail and compare them in a table to help you make a quick decision.
In case you're still not sure, we then provide a buying guide that covers everything from the types of pool brushes that exist (and why), to the things you should consider when buying one.
Then, we answer the most common questions regarding pool brushes.
In the end, we're certain you'll find a brush suitable for your pool and unique needs.
If you can't, then drop a question below in the comments and we'll try to help you.
Best Pool Cleaning Brushes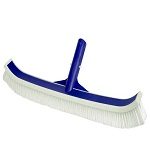 Poolmaster Heavy-Duty Pool Brush

Best for above & in-ground pools
Milliard 17.5-inch Nylon Brush

Best for big vinyl lined pool
U.S Pool Supply Professional Pool Brush

Best for all pool types
Blue Devil Pool Brush

Best for quick cleaning
Blue Wave NA315 Pool Brush

Best for corners
SweepEase Stingray Brush

Best overall

Bristles
Stainless Steel/Poly
This brush is from Poolmaster's classic collection; all the products from this collection are built to last, promise excellent performance, and feature resilient components that keep the pool shiny and sparkling. 
And this model is no different.
It is an 18" vinyl liner brush made especially for spa surfaces and vinyl liner pools. It has polypropylene bristles with a curved body that is not only durable but can also easily withstand high pressure. It is also quite lightweight, making it easy to use. 
The brush further features a non-abrasive, soft bumper that protects the walls from scratches. Plus, you can use this brush with all standard pool poles, so compatibility won't be an issue. 
You can use this brush for a light clean once you're done washing the pool walls thoroughly. Doing so will ensure that your pool's walls, floors, and sides sparkle for a long time. 
Given all its features, it is best for cleaning algae. It also works to get rid of dirt and debris from hidden corners. It has five rows of soft bristles that can easily withstand rough and harsh weather conditions.
Of course, no one likes to take on the tiring task of cleaning, but with the Milliard's 17.5-inch extra-wide brush, it will hardly take you time and will be quite easy, too. So, you'll be able to dive into your swimming pool in a few minutes!  
Milliard understands that vinyl tends to tear easily, which is why they've designed the nylon bristles on this brush to be gentle on your vinyl liner but tough on the buildup of your pool walls.
The bristles help get rid of the stubborn growth present on the surfaces without damaging the surface itself.
The bristles are housed in an ABS plastic housing that curves upward, allowing you to sweep out the dirt buildup along crevices and walls. The curved design also allows you to scrape off the algae and stains that other brushes often miss.
The Milliard nylon brush is ideally designed for wide pools, which explains the size of 17.5 inches. In fact, because of its extra-wide size, it can easily tackle big areas to ensure no dirt or grime is left behind! 
It also has an ABS plastic handle with a 45-degree angle that allows you to ideally position the brush to make it easy to push. This also helps with effective cleaning. Lastly, it attaches to any standard 1¼" pole.
The U.S Pool Supply pool brush is a durable 18" unit featuring a sturdy aluminum reinforced aluminum body and handle. It is designed to clean all areas of the pool, including the floors, walls, corners, and even the steps.
It has a wide body and five rows of nylon bristles with curved ends that make sure the bristles fully cover the surfaces of the floor and wall you're cleaning. Moreover, the brush is easy to move around, even around the pool's slopes, making cleaning easier and demanding.  
What we love most about this brush is the handle that features user-friendly EZ clip buttons. These buttons make sure your fingers don't get jammed or pinched when you attach or detach the brush from a telescopic handle. 
With this handle, you only have to push on the EZ clip buttons. This will retract the butterfly clips holding the pole to the net. You can then easily, quickly, and safely disconnect or connect the pool. 
You won't have any issues with the compatibility of this brush either. It can fit all standard pool poles measuring 1¼," and you can use it for all pool times. It is ideally made to clear up calcium buildup and other surface debris from your pool.
Lastly, it comes with a one-year full satisfaction guarantee. Manufacturers are sure that it will last, and if you don't like it within a year of purchase, you can get a replacement or refund!
If you're looking for something for above-ground vinyl pools, you need to check out this pool by Blue Devil. This metal-reinforced brush with soft poly bristles is ideal for cleaning the walls and floor of your pool.
In fact, the curved head can reach the tricky areas around the steps and stairs of the pool, allowing it to get rid of algae from the smallest corners. Meanwhile, its metal backing is strong enough to effectively clean the pool. 
The poly bristles are also flexible and can reach tough corners without any problem. The brush is easy to use, too. You just have to connect it to any pole, and you can start brushing right away. 
At 18" wide, the Blue Devil brush provides a wide sweeping area, so cleaning the pool won't take a long time. 
What further makes it a great purchase is that it comes at an economical price, so you won't have to shell out a lot of money!
If you often have trouble cleaning your pool corners, you need the NA315 360-degree pool by Blue Wave. Thanks to its 360-degree cleaning bristles, it ensures that no dirt is left behind. To facilitate that, it has built-in corner brushes that clean the tight corners of your steps and walls.
The corner brush is easy to attach to a standard pole, too. 
Apart from the corners of the pool, it can easily tackle tiled surfaces, wood decks, ladders, steps, and curves. At the same time, it doesn't have any rough edges that might scratch or damage your pool liner. And you can use it for both above-ground and in-ground pool cleaning. 
As the name suggests, you can turn this brush to any angle that can get the job done, even on hidden and tight corners.
With its patented spoiler shape, the SweepEase Stingray Brush is a unique model that makes sweeping the pool easier than you can ever imagine. In fact, you can use it with just one hand! And since it sticks to the wall, you won't have to exert too much pressure on your own. 
The unique shape takes help from the water to thrust the brush on the floor and walls with up to ten pounds of pressure. Despite that, it can easily slice back through the water. This working mechanism makes it so easy to use that even an 8-year-old can clean the pool easily! 
The brush is made with top-notch stainless steel and poly bristles that don't bend, so you can expect it to make complete contact each time. This way, you can spend less time cleaning the pool and more time dipping in the refreshing, cool water. 
With continuous use, this brush can help you get rid of sodium, calcium, and algae on tiled, plaster, and concrete pools and keep them sparkling clean. SweepEase also has a contoured head with long bristles present at the end to tackle corners.  
Another commendable feature of this brush is its durable construction. The high-impact poly and stainless steel design is not only long-lasting but there are no moving parts at the risk of wearing out, making sure the brush will last a long time. 
Pool brushes can be divided into three types. 
The first type is the standard 18" nylon brush, which is also the most common one out there. It is a daily-use brush and is ideal for brushing off the light debris and dust that often settles on the pool plaster. This kind of brush keeps the pool looking well-maintained and clean.
The second type is a combination bristle brush that can tackle algae (yellow or green) and staining issues. Typically, combination brushes are a mix of nylon bristles and stainless steel. Keep in mind these brushes are not recommended for weekly or even daily uses; you should use them just to clean algae.  
The third kind is a full stainless steel brush that provides complete aggressiveness against the different types of algae, including black algae. It is also the best choice if you want to get rid of or at least lighten the stains that might be present in the pool.  
A pool brush might seem like a very simple and ineffective tool to purchase when you have automatic pool cleaners available now. However, a pool brush is important for your cleaning and maintenance routine. 
It comes quite in handy for scrubbing the pool's walls. This eliminates the algae and bacteria growing on your walls, making your pool sparkle while preventing chemical damage to the walls. 
The minerals present in water, such as calcium, collect on the walls and cause damage and pitting. Ultimately, this shortens your pool's life.
 And while an automatic pool cleaner can help, brushing your pool walls with the ideal brush will help dislodge all the build-up. 
What to look for in a Pool Brush
For many, a pool brush is, well, just a brush with a handle and bristles, which is why they choose one blindly. However, this often leads to a wasted purchase because the wrong purchase won't just make cleaning hard, but it will also damage your pool walls.
This is why, when choosing a pool brush, make sure you consider the following features: 
When it comes to the size, you need to consider the size of both the brush and your pool. If you have a large pool, it's better to opt for a large brush. Ideally, an 18-inch brush would do. 
However, if you choose a small brush for a large pool, you will spend more than half of your day trying to cover the whole pool. 
You might completely ignore the shape of the pool when considering the type of brush you should purchase, but we advise against it. In fact, the shape of the pool is quite important. 
This is because certain brushes are ideal only for specific pool shapes. For instance, you should opt for round brushes if you have a round pool, while people with square-shaped pools can benefit from rectangular brushes. 
Another essential factor to consider is the pool type, especially because if you choose the wrong brush for the kind of pool you have, you could risk damaging the pool. 
If you have a vinyl-lined or fiberglass pool, then you should only use a brush with nylon or poly bristles. Make sure you stay away from brushes with wire bristles since they will scratch the pool surface and might even create tears in the vinyl.
Meanwhile, if you have a plaster or concrete pool, then a nylon or pure poly brush might be ineffective in cleaning out all the build-up. Instead, you should opt for either a simple wire brush or a combination nylon and wire brush. 
Since plaster and concrete walls have sturdier walls, they can withstand good scrubbing without getting damaged. 
Bristles are the part that will scrub the walls, so you need to make sure they are stiff enough to do the job efficiently. If they are too soft, the brush won't work, and if they are too strong, you will end up damaging your pool's walls, especially if you have a fiberglass or vinyl pool.
Poly and nylon bristles are known for being the softest, and they don't damage or scratch the liner, making them good for fiberglass pools.
For something stronger, you can opt for a combination brush that includes both nylon and stainless steel bristles. You can even find brushes with only wire bristles; these are ideal if you have a concrete or granite pool in dire need of cleaning. 
Of course, you wouldn't want to buy a pool brush that will break after a handful of uses. To prevent this from happening, you need to check the brush's durability. While brushes with metal bristles tend to last long, you will have to shell out more money. 
You also need to steer clear of brushes that shed since they don't last long. 
It goes without saying that you need to get an easy-to-use pool brush that doesn't cause your arm to fatigue. Since you will have to scrub the walls frequently to prevent bacteria and algae, you need something you can use easily without any problems. 
Frequently Asked Questions
How often should you brush the pool?
You might come across different kinds of stains in your pool. For instance, organic stains are a combination of oils, minerals, and dirt, and they enter the pool at the water surface. Brushing the walls a couple of times a week is enough to prevent these materials from solidifying into stains.  
Can you use a wire brush on the plaster pool?
Definitely; brushes with stiff wire bristles are ideal for scrubbing off the stubborn algae on the floors and walls of plaster pools.
What are some other pool cleaning tools I should own?
Apart from a pool brush, you should also have the following tools to make sure your pool is clean at all times:
Floating chemical dispensers: These are filled either with bromine or chlorine tablets and are adjusted to dissolve with time. These dispensers make it easy to keep the water sanitized at all times.
Pool filter: A pool filter works to trap all the small things that end up in your pool.
Skimmer: A lot of debris, like leaves and dead insects, end up on the pool surface. Skimmers gently pull water and suck out all the debris. 
Pool Vacuums: Pool vacuums are pool cleaners that clean the stairwells, sides, and bottom of the pool. You can find both manual and automatic cleaners. 
Final Verdict: Which is the best pool brush and why?
We find the SweepEase pool brush the best option out of the ones we reviewed. It has a durable, sturdy find that gives up to ten pounds of pressure on downward scrubs. This makes cleaning quick and efficient, even in hard-to-reach places like behind the stairs. 
However, if you have a fiberglass or vinyl pool, you are better off going for the Milliard 17.5-inch pool.