Shopping for a battery-powered pool vacuum?
You've come to the right place.
As summer approaches, pool owners have the same old problem: getting leaves, dead bugs, sand and other debris out of their pool. 
To accomplish this, you may be looking for something that is especially easy to use, cost-efficient, and convenient.

If so, then a battery-powered pool vacuum may be just the cleaning tool you need.
Who Needs a Battery-Powered Pool Vacuum?
If you're looking for something that can help you clean your pool simply and quickly, then consider buying a battery-powered pool vacuum.  These appliances aren't the most sophisticated automatic pool cleaners, but they are super-convenient.
A battery-powered pool vacuum is also a great idea if you have more than one pool or multiple segments and you want one cleaner to use in all of them.
Because battery-powered pool vacuums are super-compact,  you also don't need much space to store when not in use. Most are very lightweight, too, so you can carry them around easily. 
Finally, if you need a cable-free pool cleaner for any reason, a battery-powered pool vacuum is a great choice. One of their best features is they don't rely on a power cable that can get twisted up and prevent a thorough cleaning.
What's In This Buying Guide
Add a header to begin generating the table of contents
In this guide we review the best battery-powered pool cleaners sold today (in our opinion).
We also provide a comprehensive buying guide will help you find exactly the right product for your needs. 
At the end of this guide we also answer the most commonly-asked questions about battery-powered pool vacuums. 
Best Battery-Powered Pool Vacuums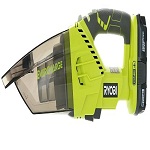 Ryobi P714K

Most quiet and efficient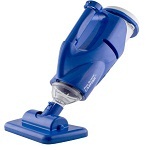 Pool Blaster Max Rechargeable Pool Cleaner

Best for all kinds of debris

Battery type
Rechargeable Lithium ion

Battery run time
60 minutes
Intex Rechargeable Vacuum

Best for above-ground pools

Battery type
Ni-MH rechargeable battery

Battery run time
50 minutes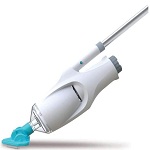 Kokido Telsa 5

Best for small & medium-sized pool

Battery type
Rechargeable battery

Battery run time
30 minutes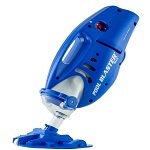 Pool Blaster Water Tech Catfish Cleaner

Best for all pools

Battery type
Rechargeable lithium-ion battery

Battery run time
45 minutes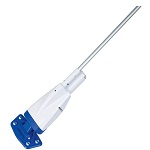 Bestway Aqua Powercell Vacuum

Best handheld vacuum

Battery type
Rechargeable lithium-ion battery

Battery run time
40 minutes
Best Battery-Powered Pool Vacuums

Ryobi is a well-known manufacturer when it comes to cleaning tools. And the Ryobi P714K is a testament to the manufacturer's craftsmanship. 
The P714K is an innovative tool that comes with the company's recently introduced EverCharge System. As the name suggests, this system keeps the battery fully charged for as long as the unit is placed in the wall-mount adapter. 
This device is an improved version of the P713, which was also well-received by the masses. In fact, this one is 27% quieter than its predecessor. 
A number of features make this a great battery-powered pool vacuum to opt for. It has a unique crevice-shaped nose that lets the vacuum get into tight corners and crevices and eliminate hidden debris from the pool. 
The vacuum also has fuel status LEDs that keep you informed when you need to charge the battery. It comes with a 1.3-amp hour battery that lasts long enough for you to get the job done. At the same time, it doesn't add much weight to the unit, making sure it is easy to control.  
Along with the unit, you get an operator's manual, a wall charger, and an 18-volt lithium-ion battery.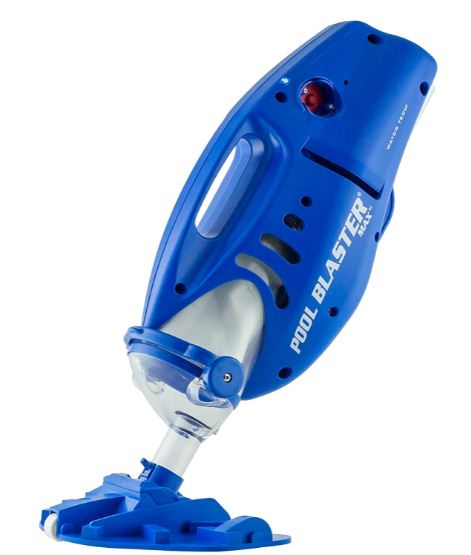 If you often find sand, dirt, acorns, leaves, and twigs in your pool, consider getting the Pool Blaster Max cleaner. It features the Water Tech P30 motor that's specially designed for efficient and quick debris pick-up. Plus, with its motor, the unit offers increased vacuum suction. 
Whether you use it to spot-clean or clean the whole pool, it gets the job done in seconds. It comes with a removable 10.5" vacuum head for scrubbing the pool bottom. Meanwhile, for corners, you can just remove the vacuum head and expose the nose cone head.
Moreover, the vacuum has powerful suction and a large debris capture chamber that can clean up all dead algae, acorns, fine dirt, twigs, and leaves that find their way into the pool. 
The high-capacity chamber makes this vacuum ideal for pools of all sizes. Meanwhile, the reusable multi-layered filter bag captures all kinds of debris. 
The Pool Blaster Max Pool Cleaner comes with a lithium-ion battery that can run for up to one hour. And it has a simple push-button operation and is easy to attach to a standard telescopic pole. Alternatively, you can use it simply by hand, too. 
Considering all its features, the Max is ideal for both above-ground and in-ground pools, spas, and hot tubs.  
The Intex Rechargeable Vacuum is another great option. It has strong built-in rechargeable Ni-MH batteries along with powerful suction and is suitable for 18" above-ground pools. It can efficiently clean out debris and dirt, making sure the pool is sparkling clean. 
The battery lasts for 50 minutes per charge, so it can last long enough to cover up the whole pool. For safety, it has an automatic shut-off feature that turns the vacuum off as soon as it is out of the water. It also has an IPX8 waterproof switch for further protection. 
Moreover, it has two interchangeable brush heads to tackle and expel different kinds of debris, both big and small.
In the package, along with the unit, you get a USB cable for convenient recharging and a lightweight telescoping aluminum shaft measuring 94". It also includes a shaft adapter if you want to fit the vacuum to longer telescoping aluminum shafts. 
The Telsa 5 is one of the best options for cleaning soft-wall pools featuring low-flow filtration systems. It can easily remove sand and debris from the pool's bottom without getting clogged. Since the vacuum simultaneously filters and vacuums, it helps prolong your pool filter's life, thus saving money.   
Assembling the vacuum is quite easy, and you can connect it to a 5.6-foot pole. Plus, it has a removable filter bag that can help you clean your pool efficiently and quickly.
What makes it particularly great for small and medium-sized pools is the two heads that make it easy to clean large areas. Along with the 5-section pool, this unit comes with one wide pivoting and one pivoting head. 
It also has a wide nozzle fitted with rotational ball wheels, allowing it to glide along the floor easily. 
Lastly, the rechargeable battery lasts for 30 minutes on a single charge and takes 4-5 hours to charge fully.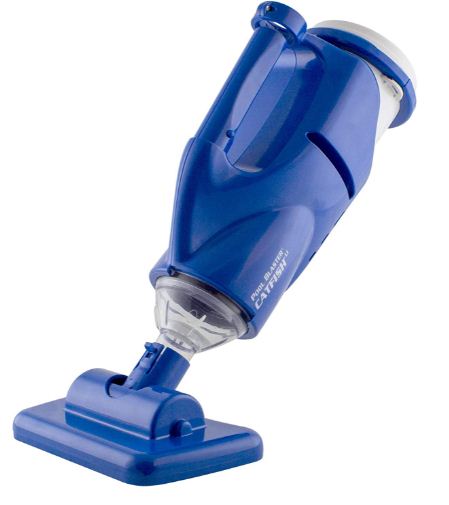 The Pool Blaster Catfish can help you keep the water debris-free and sparkling clean throughout the season. It can work independently from the main filter system and clean up to 33 gallons of water/minute. 
The vacuum is quite easy to use and lightweight. If you want to extend your reach with this vacuum, you can easily attach it to a telescopic pole and use it to clean all areas of the pool without any additional pumps or restricting hoses. 
The Catfish has a rechargeable battery, a simple push-button operation, and a reusable filter bag, and it has sufficient suction power to eliminate disease-causing germs, sand, and leaves. On a single charge, you can expect it to run for 45 minutes. 
Like the other Pool Blaster unit on the list, this also has a removable 7.5" vacuum head that you can use for general cleaning and a nose cone head for corners and other hard-to-reach areas. Plus, it can capture different kinds of debris, like sand, dirt, leaves, twigs, and acorns. 
You can use this pool vacuum for easy set and PVC and metal frame pools.
One last option you should definitely check out is the Bestway Aqua Powercell vacuum. It can help you eliminate debris from your spa or above-ground pool quickly. Plus, it comes with a rechargeable battery to ensure ease of use.
The lithium-ion battery lasts for up to 40 minutes, has an extended life, and has no memory effect. 
The vacuum features wheels on the base that help it swiftly glide across the floor. Meanwhile, the replaceable bristles scrub off debris from different surfaces. Moreover, it has two interchangeable heads; one is for the surfaces, and the other is for the corners. 
To start using this, you just need to connect the 5-section pole to the base, and you're good to go. Once you attach the pole, you will get a vacuum measuring a total of 87 inches in length. The vacuum has a fully submersible body and is ideal for spas and 20" above-ground pools. 
Battery-Powered Pool Vacuum Buying Guide
When to buy for a battery-operated pool vacuum vs. a wired one
As with any other device, you will have more freedom to roam around the pool with a battery-operated pool vacuum. So, for instance, if there are some restricting objects in the pool, you can simply pick up the device and drop it where more debris is available.
Meanwhile, with restricting objects, a wired one might not be able to navigate itself beyond the objects. Plus, the wire might not be long enough for the device to cater to the whole pool. 
A battery-operated vacuum can also serve as a power-focused option for cleaning certain parts of the pool that are unreachable for a wired one.
Similarly, if you just want a vacuum to clean your own pool, you can choose either of the two. However, if you're looking for something you can take from place to place, you're better off with a battery-powered vacuum since such units are usually lightweight and hassle-free to carry.
However, battery-powered vacuums might not be the best pick for commercial pools where cleaning is frequently needed or where the area to cover is very large.
This is because battery-powered vacuums have limited power, and you will have to recharge them after every use. Plus, if the pool is too large, they might die out even before they clean half the pool. 
What to look for when buying a battery-operated pool vacuum
To ensure you get the most suitable battery-operated pool vacuum, keep an eye out for the following features:
Of course, since you're buying a battery-powered pool vacuum, you need to check out the battery life. At the very least, the device you're thinking of purchasing should be able to work for an hour on a full battery.
If you opt for a device with poor battery life, you will find yourself recharging it multiple times even before your pool is completely clean. 
Another crucial thing to consider is the vacuum's ease of use. Just because it runs on batteries doesn't mean you won't have to operate it yourself. Plus, you don't want a device that tires you out even before you get the chance of jumping into the pool to beat the summer heat. 
In terms of ease of use, look for a handle that's comfortable to hold and makes maneuvering easy. Similarly, make sure the buttons are easily accessible, and the filter is easy to remove for cleaning.
By full charge duration, we don't only mean the time for which the battery lasts. We also mean the time it takes for the device to recharge fully. Ideally, the pool vacuum shouldn't take more than two hours to recharge fully. 
Durability is another important thing to look out for. Before spending your hard-earned money, you need to make sure that the unit you are considering is made to last. 
You can determine this by checking the material the device is made from along with any other feature the device has to prevent it from malfunctioning or breaking. 
For instance, a good feature to have is a rubber coating that can ensure that your device doesn't get damaged and the parts don't wear out while the vacuum is cleaning your pool. 
After use maintenance, etc.
Once your battery-powered pool vacuum is done cleaning, you will have to clean the device. This will involve cleaning the filters and emptying the skimmer baskets or the debris basket. 
Of course, you would want a device that's hassle-free to clean and maintain. For this, make sure the filters are easy to take out and wash, and the skimmer basket or debris collection bag is easily accessible.
Limitations of battery operated pool vacuum cleaners
Battery-operated pool vacuum cleaners can be automatic, manual, and handheld. While these devices have their own benefits and limitations, one limitation common across all battery-operated pool vacuums is the battery life.
Most units work for a maximum of one hour, which might not be enough for cleaning the whole pool thoroughly. 
The charging time is a limitation, too. You will have to wait a bit for the device to charge before you can use it to clean the pool. 
Frequently Asked Questions
Are battery-powered pool vacuums efficient for commercial use?
This has more to do with the motor power than with the battery power. Usually, you need a vacuum with a strong motor to be able to clean a commercial pool. 
However, as mentioned earlier, a battery-operated pool vacuum won't last for long, and you will have to recharge it once it dies down.
So, if you want something that can continuously work throughout the day, a battery-powered pool vacuum is not the best option.
Do I need to purchase a spare battery for my pool vacuum?
Most battery-operated pool vacuums have a rechargeable battery, so you won't really need the spare battery. 
However, if your unit comes with a replaceable battery, you can keep a spare, so when the primary battery dies, you can just change it and continue cleaning the pool. 
Can most battery-powered pool vacuums clean the pool on a single charge?
This will depend on the size of your pool and the battery life of your chosen pool vacuum. If you have a small or medium-sized pool, then a pool vacuum that can last for an hour can easily clean the pool on a single charge.  
Final Verdict: What is the best battery-powered pool vacuum and why?
If you're looking for a quiet, all-around battery-powered pool vacuum, go for the Ryobi P714K. It is a versatile tool that you can use for other purposes, too.
Meanwhile, for above-ground pools, the Intex Rechargeable Vacuum is a good option. 
And for small or medium-sized pools, choose the Kokido Tesla 5.